Wine & Cheese Night: Hygge
19oct7:30 pm10:00 pmWine & Cheese Night: Hygge
Event Details

A cosy evening with our good friends Latitude Wines and George & Joseph Cheese Mongers
Studio Events | Wine & Cheese Night: Hygge

"Hygge" (hyoo-guh) means "cosiness" in Danish. It's all about creating a warm atmosphere and enjoying the good things in life with good people. At Studio Events, we love nothing more than a cosy evening with our good friends Latitude and George & Joseph Cheese Mongers. Join us this October.
Latitude Wine & Liquor Merchants has succeeded in stocking Yorkshire's best home-bars, wine lists and back-bars with only the finest beverages since 2008.
Award-winning Cheesemongers George & Joseph, have a passion for locally produced cheese. Their dedication to quality won them Best Specialist Cheese Retailer at the British Cheese Awards in 2018.
Representatives from both Leeds businesses will be at the event to provide their unique insight into this wonderful selection.
This event will occur at The Tetley in Leeds, home of the former brewery and now a contemporary art space, restaurant and bar. You can find accessibility, travel and parking information here.
Tickets for these events sell out quickly, so grab yours while you can.
Your Ticket Includes:
A welcome drink
Five pairings of wine and cheese with a deli board of accompaniments including bread provided by Bakeri Baltzersen in Harrogate
A digestif.
Welcome Drink

'Hygge Spritz'
Italicus bergamot aperitif – ginger syrup – prosecco – soda
Served over ice and garnished with dried apple
The Pairings:

Alp Blossom
Produced in the Allgau region of Bavaria, Germany by Albert Kraus who uses Brown Swiss Cows milk, the producers have coated the cheese with a mix of scented flowers and herbs to produce an iconic stunning cheese. Iconic not just for its appearance but also for its sweet and gentle flavour that carries mustard notes.
(unpasteurised, cow's milk)
Paired with…
Vignoble Drouard Muscadet Fief De L'Ancruere
A cracking example of Muscadet by Vignoble Drouard.
Fermented in chestnut wood – not something you find much in France or elsewhere these days – gives a flavour that is refreshing, textured and layered; with notes of pear and citrus, a hint of wood spice and a dry, tapering, almost salty finish.
~~~
Crookwheel
An aged non-washed version of St James, produced by Martin Gott and Nicola Robinson on the Holker Estate in Cumbria.
Crookwheel is not too dissimilar to a Manchego. When it is young the cheese packs lots of creaminess and acidity becoming richer and more savoury as it ages. The cheese carries an earthy aroma with a dry, crumbly texture.
(unpasteurised, traditional rennet, ewe's milk)
Paired with…
Emilio Moro Finca Resalso Ribera Del Duero
Produced by three generations of winemakers with brothers José and Javier Moro at the helm. Based in the village of Pesquera de Duero the brothers believe that their wine has a life of its own and with each vintage a part of them is immortalised in it. "It evokes the land where it comes from".
Deep cherry red in colour with a violet rim. This wine is honest, intense and very expressive on the nose. The primary aromas of Tempranillo, such as blackberry and blackcurrant, stand out. It is well-structured in the mouth with mellow tannins and well-balanced acidity.
~~~
Gorgonzola Dolce
The cheese is produced by Marco Arrigoni, 3rd generation cheesemaker/farmer, in Treviglio 12 miles from the village of Gorgonzola in Lombardy. Gorgonzola can be traced back as far as 879 – farmers would stop in the village of Gorgonzola to rest and milk their cows as they travelled down the valley for Winter – this is the cheese they made with this milk.
This is a subtle blue, very easily enjoyed, decadent and doesn't really require any biscuits or chutney, just a spoon!
Paired with…
Klinker Brick Brickmason Lodi Blend
Steve and Lori Felten, fifth generation grape growers in the Lodi region, continue the tradition of cultivating "Old Vine" Zinfandel vineyards that their ancestors planted in the early 1900's. For over one hundred years, the family has cultivated the land with the aim of producing top quality fruit.
This blend is comprised of 80% Zinfandel, 10% Syrah, 5% Cabernet Sauvignon and 5% Petite Sirah. On the nose, aromas of red berries and licorice lead into notes of dark cherry and hints of tobacco with soft tannins on the palate.
~~~
Rollright
Produced by a relatively new cheesemaker David Jowett at Kingstone Dairy, this was the first cheese he started producing when he set up King Stone Dairy in 2015.
This is a Vacherin / Reblochon hybrid super soft washed-rind cheese wrapped in spruce bark. Flavours are milky and milder than French Vacherin which is where the Reblochon influence come from with little hints of cured ham and mustard seeds.
(pasteurised, traditional rennet, cow's milk, organic)
Paired with…
Bottega Vinai Pinot Nero
Cavit is a leading co-operative in the mountainous Trentino region of northeast Italy. The Pinot Nero grape is particularly suited to Trentino's cool and hilly sites.
A fine and approachable style of Pinot Noir with aromas of redcurrants and cherry, combined with spicy, savoury, gently toasty notes. Fresh and nuanced palate with subtle red berry characteristics, soft tannins, balanced acidity and a juicy red fruit finish.
~~~
Reyppenaer
This is a traditional Gouda straight from Holland – this is aged for 24 months so is super mature and hard. It has a close, dry texture with a salty crystalline crunch that comes with the extra ageing. Strong, caramel piquant flavours rounded off with a little sweetness.
Paired with…
Peter Lehmann H&V Shiraz
Peter Lehmann, with 33 vintages already under his belt, started his own winery in 1979. The 'Hill & Valley' wines are made from fruit selected, often from single vineyards, in the Barossa Valley and from the higher reaches of the adjacent Eden Valley.
Aged for 12 months in French oak hogsheads, this deeply coloured limited release Shiraz shows dark forest fruit and chocolate flavours with a classical fine tannin finish.
Please note: some of the cheese selection is made using traditional rennet and therefore not suitable for vegetarians.
Allergens: Sulphites, Gluten, and trace elements of nuts may be present
Digestif

Pierre Ferrand Pineau Des Charentes
Pierre Ferrand Pineau des Charentes is a superb rich, fruity version of the popular dessert wine Pineau des Charentes. Made in the Cognac region from local grapes, following traditions in place for 400 years. This blend of Cognac and grape juice is aged for 18 months, with 12 of those spent in oak casks.
It has aromas of peach, prune and figs with honeyed notes. The palate is rich and sweet and full in flavour as well as body. This a skillfully made, balanced wine with the fresh acidity, fullness of flavour and the rich sugars rounding out the higher alcohol.
🧀🍷🍂🧣
There's nothing more hygge than sitting around with friends and family.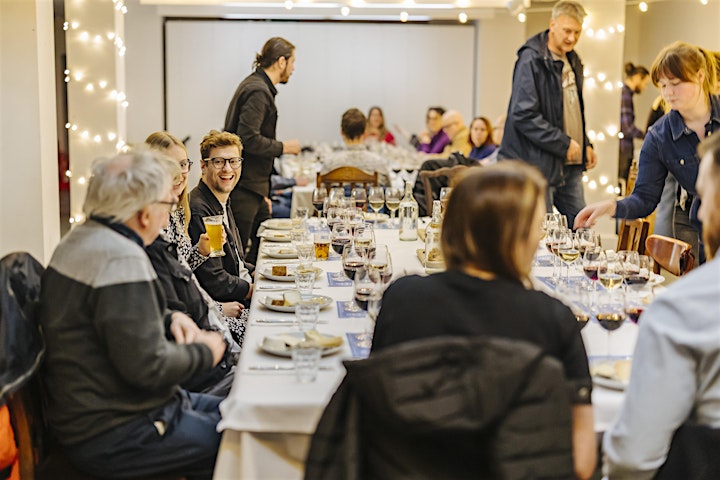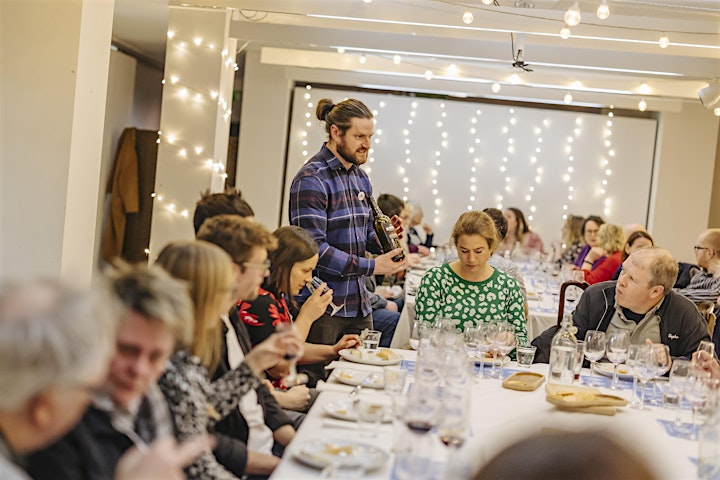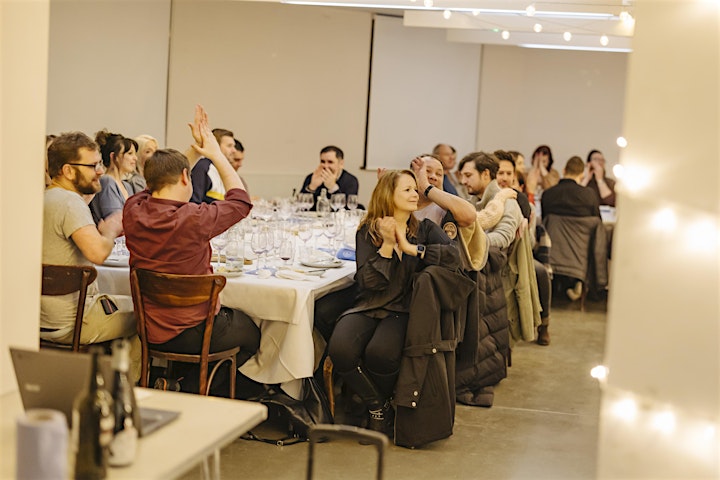 Time

(Thursday) 7:30 pm - 10:00 pm
Location

The Tetley

Hunslet Road, Leeds, LS10 1JQ