Lights Up : Reclaim the Darkness, Ride Together
25nov4:00 pm7:00 pmLights Up : Reclaim the Darkness, Ride Together
Event Details

We're lighting up the night and we're doing it in style – on bikes of course! Join us for a celebratory ride for women this Autumn.
Lots of women comment that they don't feel safe cycling in the dark so we thought we would reclaim the night, cycle together + make it an illuminated party on wheels. Let's take that darkness + use it as an excuse to put twinkling lights on our bikes!
Station South and Bee Pedal Ready are collaborating with some of Manchester's fantastic women led cycling communities: Lady Pedal, Joyriders and Al Hilal Communities. Each group will be setting off from their Manchester base for a 'feeder ride' to meet at the Emmeline Pankhurst Statue in the city centre before heading off for the main ride.
Find the rides below and choose the one that suits you best, or feel free to just meet us in town.
All bikes are welcome! The ride is accessible to all, so bring your cargo bikes, tri-shaws, adapted bikes, and even a Penny Farthing if you have one!
Our bike disco will weave across the city as a pack before heading south, brightening up the dark stretch of the Fallowfield Loop as we go – [often avoided by many in the throes of a wintry evening], before wheeling our way back to the city centre to finish. We have designed the route to enable people a 'drop off' near to the start of their feeder rides* if people would feel more comfortable ending the ride closer to where they started.
*Cheetham Hill Group [Ride 4] will cycle back together after reaching city centre destination
Any questions or if you would like to organise a feeder ride of your own – please drop Anna a line : community@stationsouth.co.uk or Belinda : beepedalready@gmail.com
Are you a Ride Leader or experienced cyclist + would like to help marshall the ride? We would L O V E to hear from you!
#lightsupride #ridesforwomenmcr
+++++++
Main Ride
> When : Meet at the Emmeline Pankhurst Statue, St Peter's Square @ 4pm for a 4.15pm departure
> Suitable for: All folk identifying as female who are comfortable riding in a group setting, with traffic.
> Distance / Terrain : The Main Ride will be approximately 11 miles / 18km
> Speed : Very much unpaced / chilled / let's ride together
> Route : City Centre – Oxford Rd – Hulme – Chorlton – Fallowfield Loop – Levenshulme – City Centre
> What to bring: Water / snacks / bike lock / spare inner tube / bike lights [essential]
> Fun things if you fancy : Wear bright, high viz or sparkly clothes if you have any / flags / speakers / noise making things / spoke lights / fairy lights / we're thinking disco party on wheels a.k.a. anything goes
Feeder Rides
TfGM are kindly giving free bikey goodie bags to everyone who signs up!
Ride 1 : with Joyriders [Stretford]
> Meet : Longford Park – next to the Cafe Caffeine & Co M32 8DA by Pets Corner
> Time : 2.45pm
> Distance : 4 miles / 6.5km
> Route : Longford Road – Manchester Road – Upper Chorlton Road – Chorlton Road – City Centre
Ride 2 : with Bee Pedal Ready [Moss Side]
> Meet : Outside the Cafe "The Pavilion" in Alexander Park, 180 Russell Street, M16 7JL
> Time : 3pm
> Distance : 4 miles / 6.5km
> Route : Alexandra Rd – Moss Side – Hulme – City Centre
Ride 3 : with Station South [Levenshulme]
> Meet : Station South Bike Parking
> Time : 3pm
> Distance : 5 miles / 8km
> Route : FLoop – Oxford Rd – Platt Fields – Whitworth – City Centre
> Bikes + helmets available to borrow : contact Anna at community@stationsouth.co.uk to reserve your kit.
Ride 4 : Al Hilal Communities [Cheetham Hill]
> Meet : Evans Cycles, Manchester Fort
> Time : 3pm
> Distance : 1.7 miles / 3km
> Route:
+++++++
>> Friendly Notice! If you book on but for whatever reason cannot make it, we would appreciate as much notice as possible so we can open the ride back up to others waiting. You can cancel your place directly via EventBrite. The rides are free to you [hooray!] but come with cost and planning from our end so we want to make sure all the places are taken and enjoyed.. Thank you!
>> All riders must cycle responsibly + take their own safety as well as others into account when making decisions on the road.
>> This ride is not suitable for beginners as we will be riding on roads, with traffic and in a tight group.
>> Please bring a spare inner tube just in case of a puncture, we have our very own mechanic amongst us so you won't get left behind if you get a flat. Please make sure your bike is in a roadworthy condition before the ride.
>> Please make sure you are comfortable with the distance and route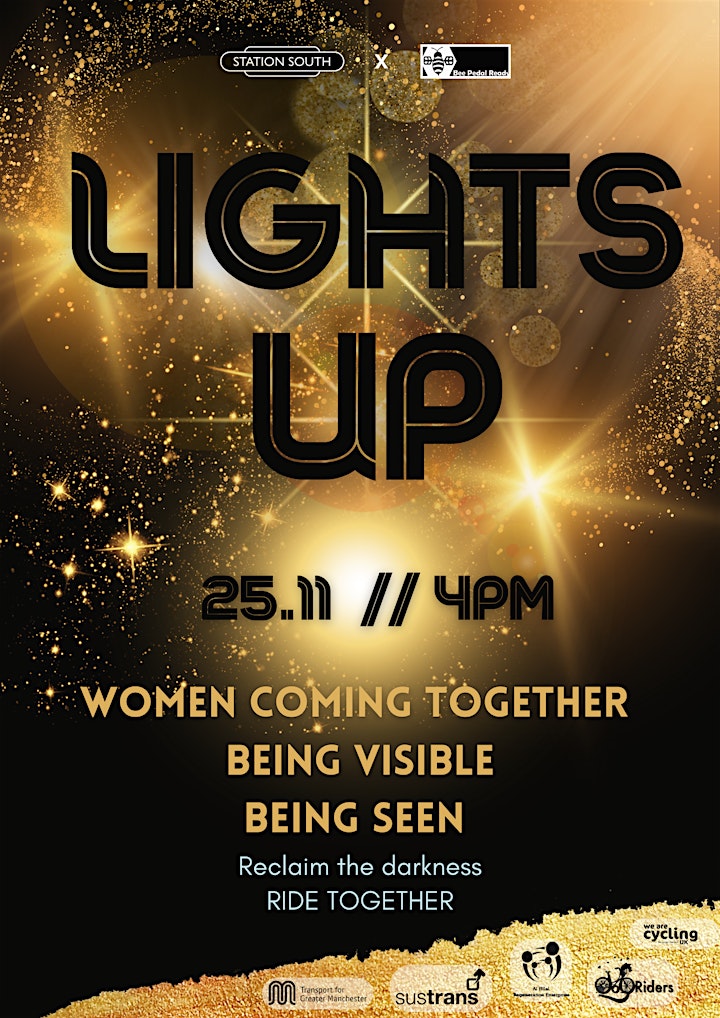 Time

(Saturday) 4:00 pm - 7:00 pm
Location

St. Peter's Square

St Peter's Square, Manchester, M1 5AN