Introduction to Autumn Foraging - Foraging Workshop & Walk in Hebden Bridge
10sep10:00 am2:00 pmIntroduction to Autumn Foraging - Foraging Workshop & Walk in Hebden Bridge
Event Details

A 4-hour workshop with a foraging expert, including ID guidance, finding and tasting wild ingredients and a walk in Hebden Bridge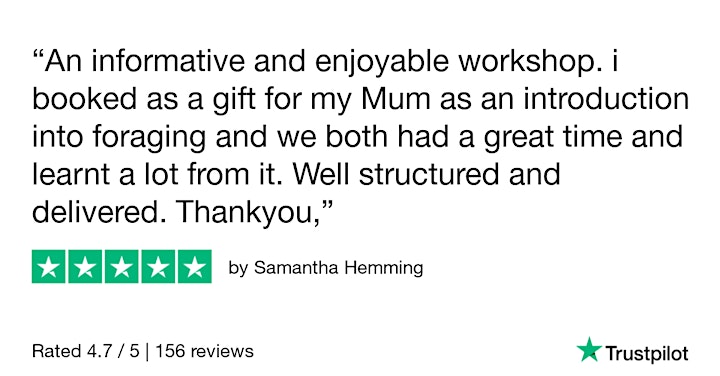 Are you looking to reconnect with nature having spent too much time inside?
Are you having a rethink about your impact on the natural world?
Maybe you want to try to source food from somewhere other than your local supermarket?
Or are you just a food-lover who wants to try new and unique flavours?
This is your chance – find out what delicious wild food grows in typical UK countryside and learn how to forage for yourself!
Event sold out or can't make this date? Head to www.foragebox.co.uk/workshops to browse all available sessions.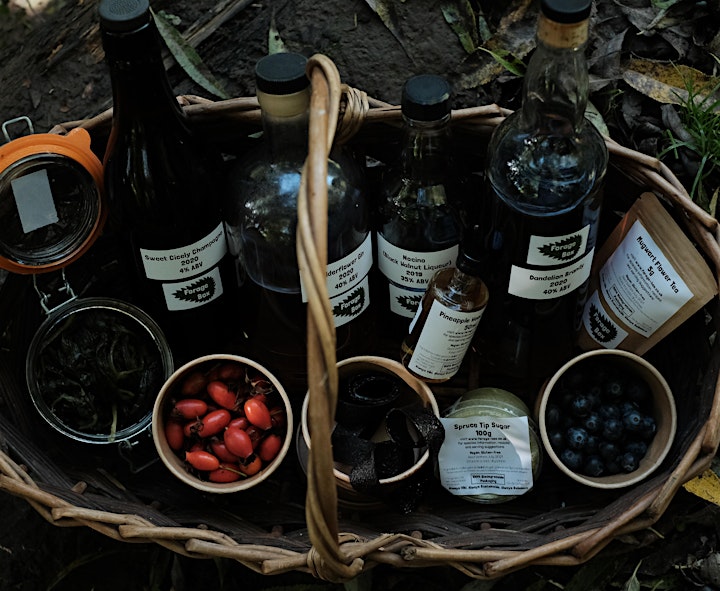 This course is designed to get you as involved as possible – this includes identifying, picking and tasting a range of wild species that will be found on the day. There will also be lots of samples of food and drink for everyone to get stuck into!
The focus with all of our workshops is on the 4 'F's of Foraging: Fungi, Fruit, Flowers and Foliage. We aim for an array of these elements on every session we run (weather and season permitting!)
We like to keep some elements a surprise for the day, but here is what you can expect from your Foraging Workshop:
a short introduction outlining foraging tips, safety, ethics, etiquette and law
a circular walking route taking in different growing environments around the site
a closer look at edible wild species and any poisonous lookalikes by a professional forager
a chance to slow the pace of modern life down, meet new people and immerse yourself in a soul-nourishing activity, reconnecting with nature and discovering new flavours.
small tasters of wild food, drink and preserves. These may include liqueurs, syrups, salts, jams, wines and even freshly-picked items straight from the hedgerow. We've even been known to fry up some species we find on the day or enjoy a fresh pot of wild tea using plants found on site!
each course is run with in an informal fashion, where attendee questions and contributions are more than welcome
At the end of the session, there may be a small selection of our wild products available to purchase (card and cash accepted). This is a recent element of our events after enough attendees made enquiries about it – there is no pressure to buy anything having already bought tickets but sometimes people want a souvenir to take with them!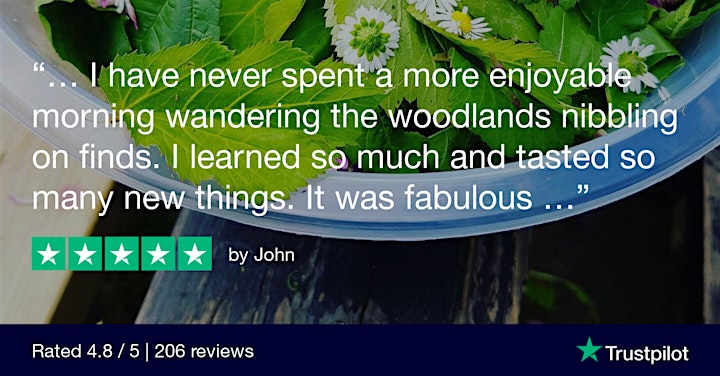 IMPORTANT AND RELEVANT INFORMATION – PLEASE REFER BACK TO THIS IN THE LEAD UP TO THE EVENT
Children? Yes! Reduced ticket prices are available for children aged 5-18. Infants under 5 are free. All children must be accompanied by their responsible adult. There is a maximum of 2 children per one adult. Please buy all of your tickets at the checkout.
Dogs? Yes! Providing they are on the lead at all times and do not affect the enjoyment of others (e.g. excessive barking or jumping up). In some instances, I may bring my own, well-behaved labrador along, but she is a lover of people and sticks and would be no trouble to anyone – please get in touch if you would prefer a dog-free event and we can try to make arrangements.
Mobility? Expect to be on your feet for the vast majority of this session. The walking route is 1-2km with some slippy steps, inclines and banks but mainly on footpaths. Our foraging workshops can be tailored to suit certain mobility requirements. Please do get in touch in advance of buying your tickets to discuss this further.
Vouchers? All of our vouchers can be redeemed for this session, but please note that the difference in price may need to be paid at the checkout (e.g. a Taster Workshop voucher worth £20 would require another £15 of payment by the attendee in order to attend an Intro Workshop session worth £35)
Dietary requirements? It is vital that you inform us of any dietary requirements at least a week before the event – changes are very difficult to make on the day and you may end up going hungry if you haven't told us about something you can't eat!
What to bring:
Walking boots or similar
Weather-appropriate clothes, including a waterproof coat and extra layers (it always gets colder than you think!)
Hand sanitizer
Bottle of water
Proof of ticket purchase – electronic is perfect, so save your printer paper!
Foraging basket (optional)
A snack to keep you going (optional) and we also recommend having a big breakfast beforehand!
Parking and Meeting Point:
Attendees are encouraged to walk, cycle or use public transport to get to the destination.
There is limited free parking along Church Lane (HX7 6DS) or in Hebden Bridge at various P&D spots.
The exact location for the meeting point is at the front of Hebden Royd Primary School beside St James church, which an be found here: https://goo.gl/maps/hZsLy5abPdXxmovo9
Please arrive well in time for the start of the workshop – we tend not to wait for late-comers.
Signage can sometimes be limited, so keep an eye out for anyone with a foraging basket!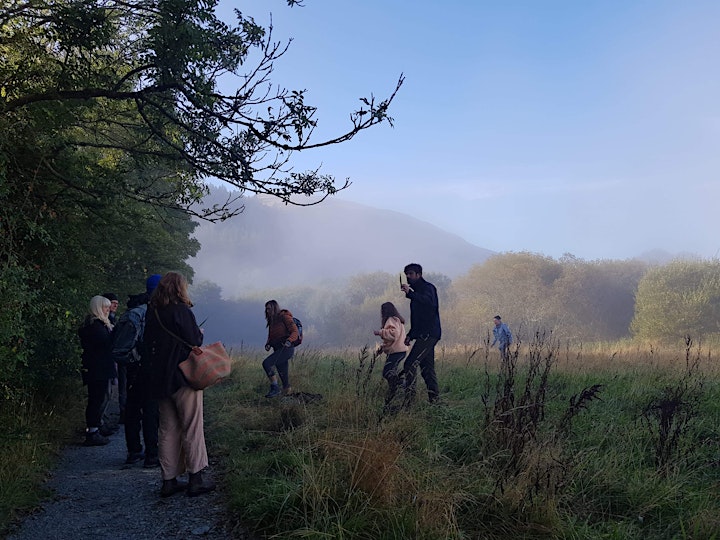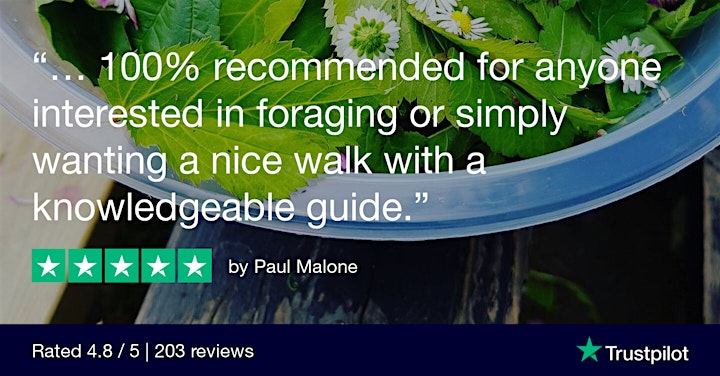 Cancellation and Other Relevant Information (Compulsory Reading)
We operate a '2 strikes' rule for those not following the safety instructions issued at the start of the session. Most notably, those eating wild food found on the day when not specifically instructed to do so will be given one warning – should another breach of the safety brief be committed, the offending attendee(s) will be dismissed from the workshop with no subsequent warning or refund. By purchasing tickets, you agree to this policy.
Whilst extreme care and supervision will be in place on the day to ensure that everyone remains safe, the consumption of wild food is done so entirely at the risk of the individual workshop attendee. Occasional adverse reactions may occur when trying new foods. All foods served and prepared on the day will have been consumed many, many times before by other workshops attendees and are considered 100% safe for human consumption. That is the entire point of foraging, of course: to open our minds and palettes to what amazing, delicious food there is to be found in nature and not wrapped in plastic down a supermarket aisle!
Forage Box will only cancel the event in the case of an extreme weather warning being issued by the Met Office. This generally tends to be wind-related only – rain, sun or snow will not be sufficient to cancel! Should this be the case, the event will likely be postponed to the next available date, but refunds or ticket transfers will also be an option for those unable to attend the new date.
Our courses are organised with your safety as the top priority, and will follow any current government rules or guidance in place at the time of the course. If the course has to be cancelled for any reason, a full refund will be issued to all ticket holders.
PLEASE DO NOT ATTEND THIS COURSE IF YOU OR SOMEONE YOU ARE LIVING WITH SHOWS ANY FLU-LIKE SYMPTOMS. The safety of our tutors and course attendees is paramount – please do not take risks.
These courses are run by Forage Box Ltd. Visit us at www.foragebox.co.uk or follow us @foragebox
Images are owned by Forage Box or kindly donated by Karen Herman Wright and Ele Suggett
Always wild. Always sustainable. Always delicious.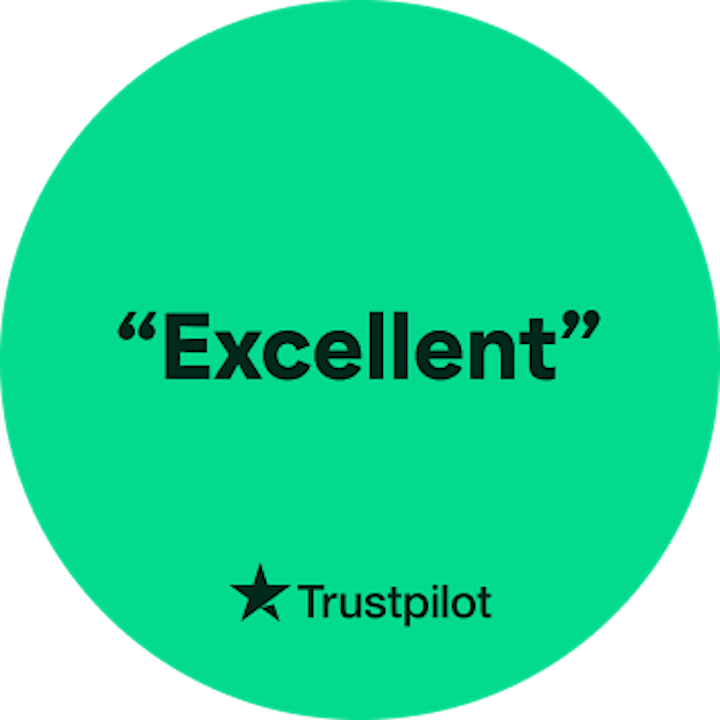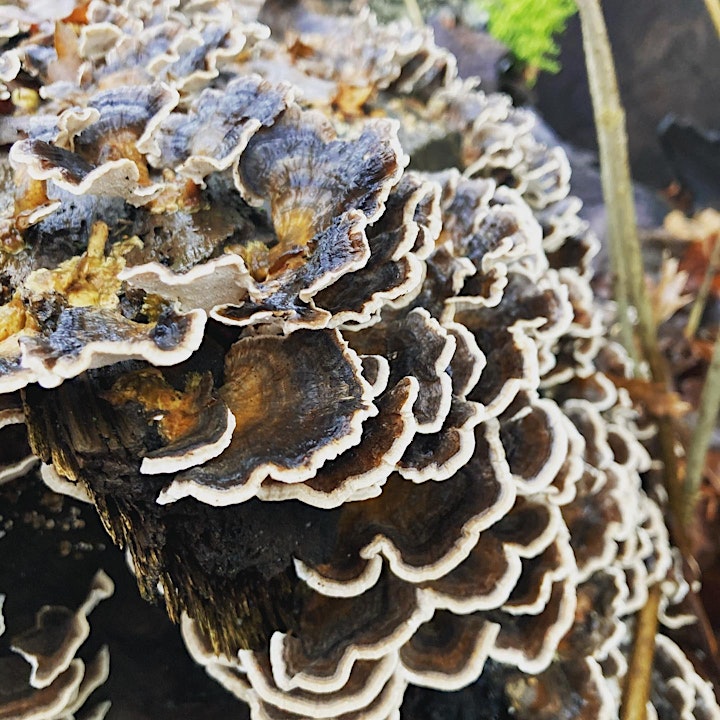 Time

(Sunday) 10:00 am - 2:00 pm
Location

HX7 6DS

Church Lane, Hebden Bridge, HX7 6DS