Equity in Energy Podcast
20feb6:00 pm7:00 pmEquity in Energy Podcast
Event Details

Leading the Conversation on Energy, Equity, and Innovation

Introducing "Equity in Energy," the groundbreaking podcast series that brings you exclusive insights from the forefront of sustainable innovation. Join host Leroy Brown as we dive deep into the dynamic worlds of green energy and digital entrepreneurship, where visionary leaders are shaping the future of our planet and our economies. In each episode, we sit down with industry trailblazers, thought leaders, and game-changers, giving you a front-row seat to their inspiring journeys, groundbreaking ideas, and the strategies they employ to drive meaningful change. If you're passionate about environmental sustainability and the power of technology to transform our world, this podcast is your gateway to a brighter, more equitable energy future. Subscribe now and embark on an illuminating journey with "Equity in Energy."

"Equity in Energy" is proudly produced by OHUB, the visionary parent holding company driving change in the fourth industrial revolution. OHUB is not just a podcast producer; it's a catalyst for meaningful action. As part of a dynamic suite of businesses, OHUB includes a not-for-profit foundation and an ecosystem-building investment fund, all dedicated to advancing racial equity. By subscribing to our podcast, you're not only accessing cutting-edge insights into green energy and digital entrepreneurship but also supporting OHUB's mission to empower underrepresented communities in the transformative journey of the fourth industrial revolution. Join us today in shaping a more inclusive and equitable future.
October 17, 2023 • 6P CST
Salem Habte
Energy Inclusion Associate • Greater New Orleans, Inc.
Salem's background is in social entrepreneurship – leading community initiatives to address needs in food waste, water access, and financial literacy. Prior to joining GNO, Inc., she created awareness campaigns and provided sales analytics for companies in government and education technology and lent her design skills to startup incubators such as Techstars. As Energy Inclusion Associate, Salem supports the development of workforce training for displaced workers, rural citizens, and minorities, builds programs with higher education allies, and promotes research and innovation in the renewable energy field.
November 14, 2023 • 6P CST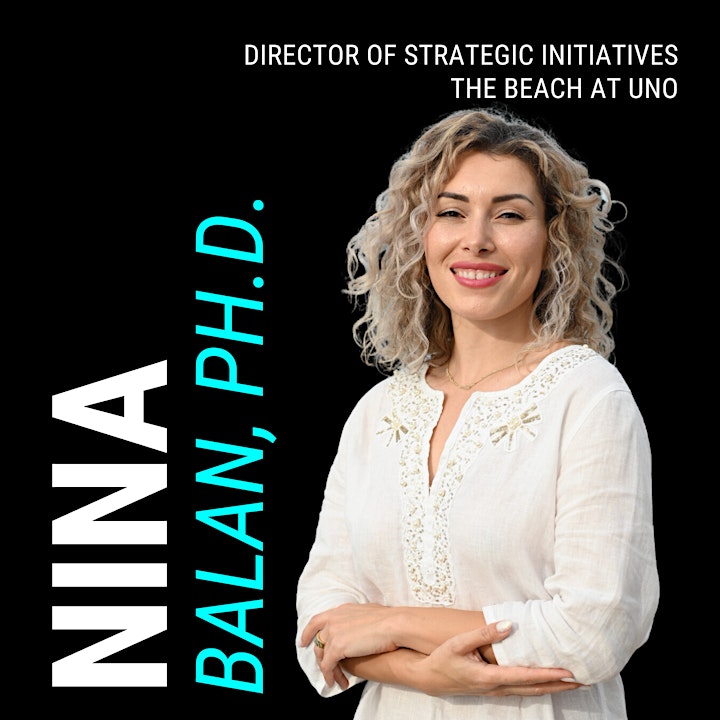 Nina Balan, Ph.D.
Director of Strategic Initiatives • The Beach at UNO
Nina received her Master of Science degree from the Lester E. Kabacoff School of Hotel, Restaurant, and Tourism Administration and her Ph.D. in Planning and Urban Studies from the University of New Orleans. In her role, Nina is developing new programs and collaborations to support the University and community that has become her home over the past years. Nina is passionate about climate resiliency and sustainability in coastal cities and works daily towards adopting safe and clean tech practices for a vibrant Louisiana.
December 12, 2023 • 6P CST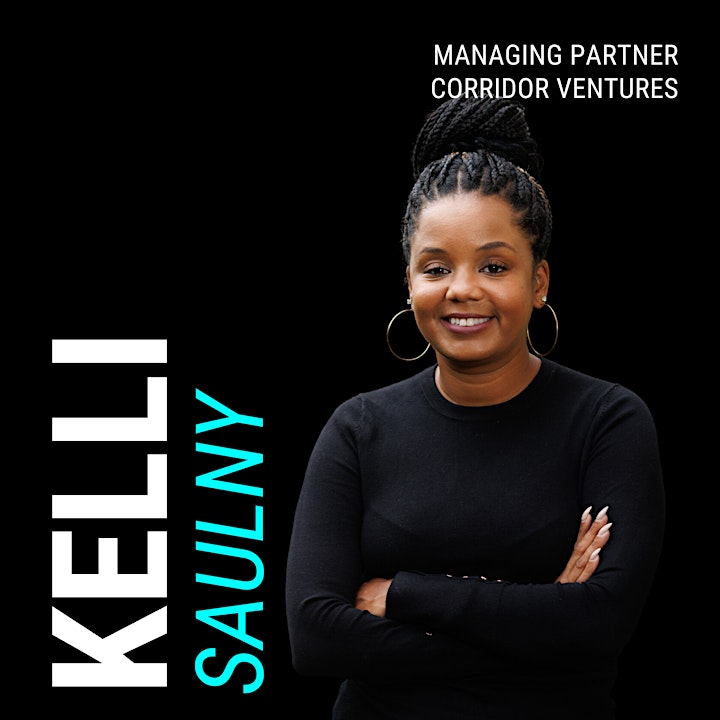 Kelli Saulny
Co-Founder & Managing Partner • Corridor Ventures
Kelli Saulny is a Managing Partner and Co-Founder of Corridor Ventures, an Early-Stage investment firm with a mission to enhance venture capital in the U.S. Southeast. She brings nearly 20 years of experience scaling startup businesses, spanning multi-channel expansion, market analysis, strategic business planning, and collaborative supply chain management.
Before Corridor Ventures, she was the Director of Strategic Partnerships and Fundraising at Camelback Ventures (New Orleans, LA). During her time, she led fundraising activities focused on increasing access to opportunity and capital for entrepreneurs through direct investment in their companies, ecosystem building, and advocating for fairness in their funding.
Kelli began her career at Carol's Daughter in N.Y., NY. As the Director of Operations, she was a key executive in its growth and scale, taking the company from startup to acquisition L'Oreal, the world's largest cosmetics company.
Kelli is a Florida A&M University 5-year MBA School of Business graduate. Her hometown is New Orleans, LA.
January 16, 2024 • 6P CST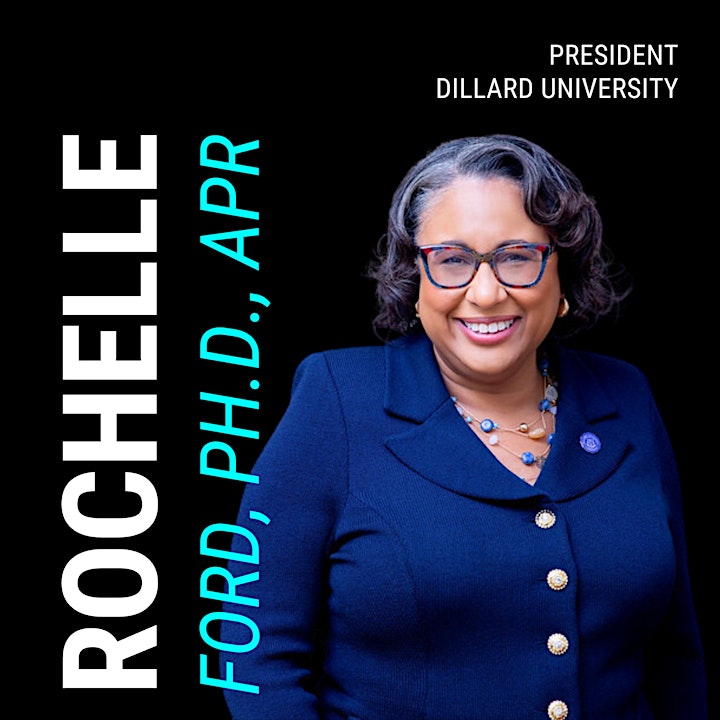 Dr. Rochelle L. Ford, Ph.D., APR
President • Dillard University
Rochelle L. Ford, Ph.D., APR is the eighth president of Dillard University. Prior to leading Dillard, she served as the dean of the School of Communications at Elon University, the second to serve in that position in the university's history. There, she led more than 80 faculty and 1,500 students with six undergraduate major programs of study and one graduate program.
President Ford is recognized nationally for her work in public relations. In 2021, the Arthur W. Page Society presented President Ford with the Distinguished Service Award for her service to the public relations profession and her commitment to advancing diversity, equity, and inclusion in the field in 2021. That same year, ColorCOMM listed her as one of the 28 Most Influential Black Females in Communications. In 2019, President Ford received the Public Relations Society of America's Outstanding Educator Award; and, in 2018, she was inducted into the PRWeek Hall of Fame.
Prior to her role at Elon, President Ford served for four years as a professor and the chair of the Public Relations Department at the S. I. Newhouse School of Public Communications at Syracuse University, helping the program to win the PRWeek Education Program of the Year.
Through a provost faculty fellowship, President Ford co-chaired Syracuse's successful Middle States Commission on Higher Education re-accreditation; and she initiated a university-wide required common first-year experience. President Ford also taught as a professor for 16 years at her alma mater, Howard University, in the School of Communications, where she served as the associate dean for research and academic affairs for six years and as the former director of the Preparing Future Journalism Faculty Program. Her last assignment at Howard was to lead the university's initiative to establish a campus-wide Center for Academic Excellence.
A native of Gahanna, Ohio, President Ford earned her bachelor's degree in journalism with a concentration in public relations from Howard, her master's degree in journalism with a specialization in public relations from the University of Maryland, College Park, and her Ph.D. in journalism from Southern Illinois University in Carbondale. She also earned a graduate certificate in higher education administration from Harvard University.
Active in both her discipline and her community, President Ford is a member of PRSA and the Arthur W. Page Society. She is also a member of the National Black Public Relations Society, the American Advertising Federation, Zeta Phi Beta Sorority, Inc., the Alamance County Chamber of Commerce's Diversity and Inclusion Committee, the United Church of Christ and the United Methodist Church.
February 20, 2024 • 6P CST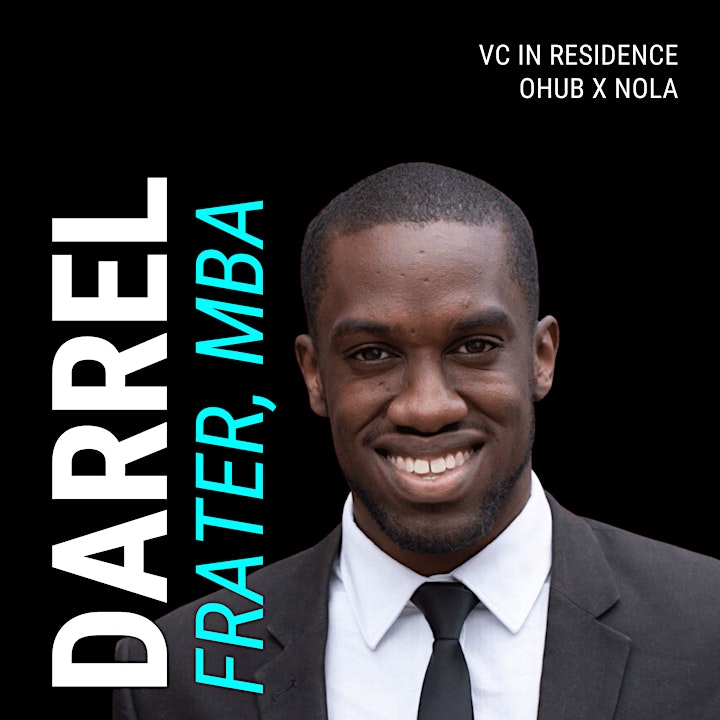 Darrel Frater, MBA
VC in Residence • OHUB x NOLA
Darrel is an Investor at Visible Hands where he invests in early-stage companies led by underrepresented founders. Additionally, he serves as a mentor in several accelerator programs such as Techstars, ACT House, ideas42 Ventures, and OHUB.
Darrel previously served as an Investment Analyst at Comcast where he led research and sourcing for diversity investing in minority-led startups and funds. Darrel is a 3-time founder with his latest company being a live-streaming platform for entrepreneurs called TheClub. He is an MBA graduate from The College of New Jersey where he studied strategy, innovation, and leadership.
Host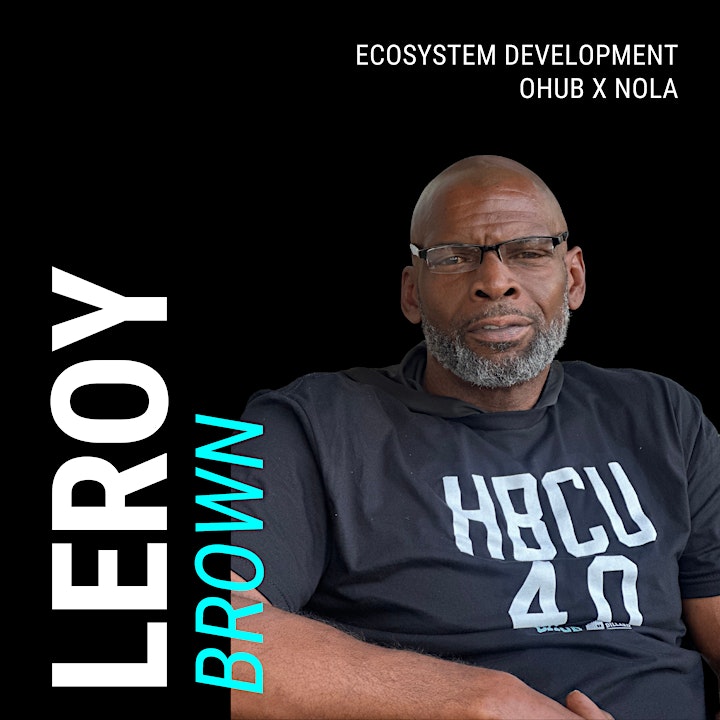 Time

(Tuesday) 6:00 pm - 7:00 pm